Administration Bureau of Nanyang Funiushan Geopark held an annualMeeting
Release time:2023-01-16 Reading times:
On the morning of Jan 13, Administration Bureau of Nanyang Funiushan Geopark held an annual meeting for 2022. At the meeting, all members reviewed the work in 2022, summarized their achievements, reflected on the shortcomings in their work, and put forward ideas and suggestions for 2023 work after careful thinking in combination with their own work.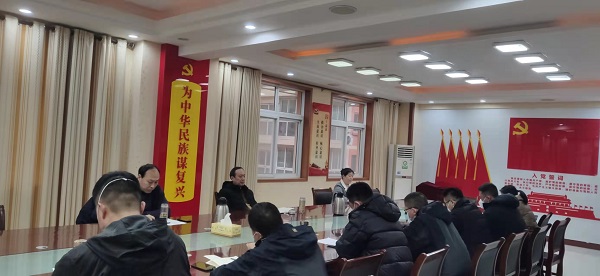 After listening to the work reports of all members, Director Fang Cheng pointed out that in recent years, everyone's ability to sum up, writing, independent thinking and innovative thinking have been greatly improved through speaking and summing up plans at the annual summary meeting. He hoped that this good working method will be maintained in the future. As for the next step, Fang Cheng emphasized: Firstly, strengthen the confidence of the unit in sustainable development. With the gradual implementation of the 14th Five-Year Plan of the State Forestry and Grass Bureau, the state will pay more attention to and support nature reserves, and the management work of Funiushan UGGp and dinosaur egg reserve will certainly continue to develop well; Second, we will unswervingly do a good job in striving for and implementing the project, strive for financial support from the central and provincial governments, and go all out to do a good job in project implementation, ensure that the project construction tasks are completed with high standards and quality, and continuously improve the software and hardware facilities and management levels in geoparks and protected areas; Third, we attach great importance to science popularization and education work. Through several innovative attempts in science popularization and education activities recently, we have achieved good publicity results. The visibility and influence of Funiushan UGGp and Dinosaur Egg Reserve have been continuously improved. In the follow-up work, we should conscientiously sum up experiences in time, strengthen the leading role of innovative thinking in science popularization and education, and effectively improve the ability of science popularization and education;
Fourth, to enhance the attention and support of scientific research, we should actively communicate and cooperate with geological colleges, museums and scientific research institutions, select some scientific research projects for cooperative research, gradually improve our scientific research ability and level, and promote the sustainable and healthy development of Funiushan UGGp.