Yimengshan Global Geopark come to Funiushan Global Geopark for Investigation and exchange
Release time:2022-09-05 Reading times:
From September 2 to 3, Gao Xueyu, member of the Party Leadership Group and deputy director of Yimengshan Global Geopark Administration Bureau, led a group of 8 Geopark managers to Funiushan Global Geopark for a 2-day investigation and exchange activity.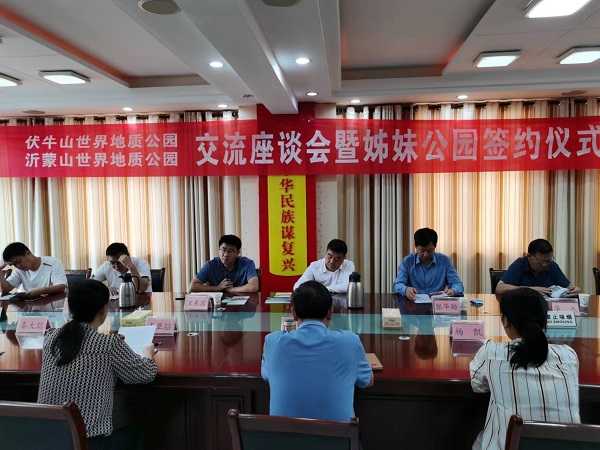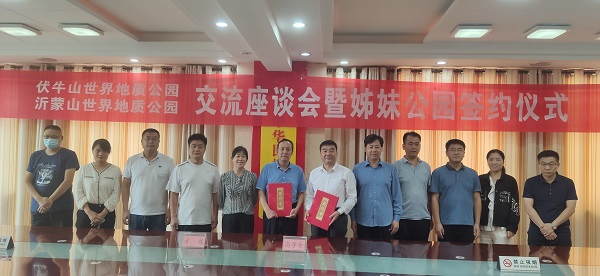 At the symposium, the two sides had in-depth exchanges on the work experience in institutional mechanism, institutional setup, park management, reevaluation and other aspects, and jointly signed the "Sister Geopark" agreement, formally building the friendly and cooperative relationship. The two sides will realize exchanges and resource sharing in future work on strengthening the protection and management of geoparks, planning and construction, geological scientific research, science popularization and other aspects, so as to jointly promote the scientific management and sustainable development of geoparks.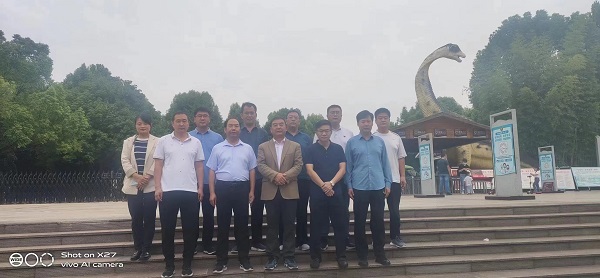 The delegation from Yimengshan Global Geopark made field visits to geological relic resources and landscape in Xixia Dinosaur Relic Park, Laojieling scenic area and other core parks of Funiushan Global Geopark. The two parties conducted in-depth discussions and exchanges on the protection of geological relics, science popularization, layout and content of signs, the combination of geological and cultural landscape and so on.