20 geoparks offer preferential policy to teachers and students nationwide
Release time:2022-07-09 Reading times:
Geopark has witnessed the great changes of the Earth in 4.6 billion years. It is the best choice to travel in the summer vacation to enjoy the magnificent landform landscape among the clear waters and green mountains, explore the hidden treasures of the earth, and enjoy the high-quality ecological environment and gorgeous cultural customs.
In order to give full play to the science popularization and education function of geoparks, attract the public to understand earth science knowledge, help the healthy growth of young people and promote the recovery of tourism market. From July, 18 global geoparks in China, including Funiushan UGGp, Yuntaishan UGGp, Danxiashan UGGp, etc., and 2 national geoparks (Aspiring Global Geoparks), Longyan in Fujian Province and Kambula in Qinghai Province, jointly launched a series of preferential activities for summer research trips.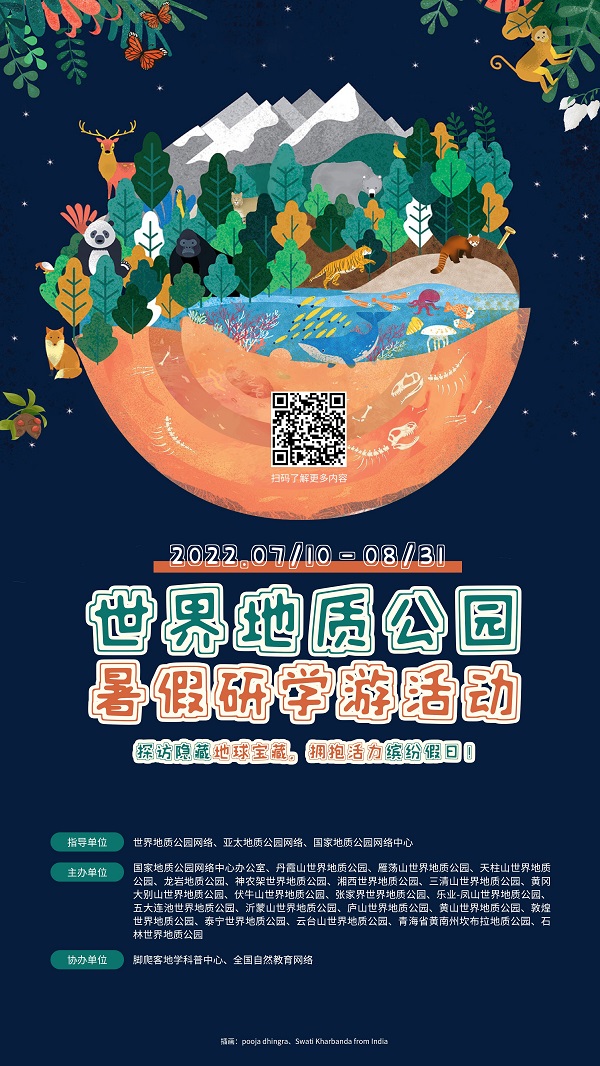 Led by the National Geoparks Network Center and jointly initiated by 20 geoparks, including Funiushan UGGp, Yandangshan UGGp, Danxiashan UGGp, etc., the event lasted from July to August, with some of the geoparks continuing until the end of September. The 20 geoparks will jointly release preferential policies such as ticket reduction and exemption, organize live science popularization tours for geoparks research, promote geoparks research products, and carry out education activities on natural disasters and safety, especially for teachers and students.
During the activity, many geoparks such as Danxiashan UGGp, Yandangshan UGGp, Zhangjiajie UGGp are free for teachers and students of primary and secondary schools. In July, Yandangshan UGGp, Yuntaishan UGGp are also free for Tourists across the country, while Funiushan UGGp, Dunhuang UGGp, Huangshan UGGp will offer half price discount to all tourists. The above 20 geoparks all have free or preferential admission policies for fresh college students in 2022, and have introduced preferential policies for cruise boats, ropeways and sightseeing buses. The specific preferential policies shall be subject to the wechat official accounts of each geopark (link at the end of the article).
On the morning of July 10, the National Geoparks Network Center Office will lead 20 parks to hold online promotional activities of "Geoparks Research Tour", showing the research courses and services of each geoparks in a comprehensive way. More than 80 popular science education institutions, travel agencies and local media, including Geoparker science popularization center and National Nature Education Network, are invited to attend the promotional seminars. During the promotional period, each geoparks will select excellent science popularization tutors to carry out outdoor live broadcasting, showing the unique geological landscape to the public and popularizing the knowledge of earth science. It is reported that during the summer vacation, the geoparks will also carry out natural disaster prevention and safety education activities in combination with meteorological disaster, geological disaster, flood disaster, earthquake and other themes, provide self-rescue and escape emergency treatment methods to visitors, especially teachers and students, enhancing the public's safety awareness and self-rescue ability.
the 20 geoparks participating in this activity are distributed all over the country, including a variety of geological and geomorphic landscapes (Danxia landform), volcanic landform, Yadan landform, quartz sand and peak forest landform, karst landform, covering tropical, subtropical, temperate and other climatic zones and ecological environment. Moreover, there are colorful cultural elements of Han nationality, Yi nationality, Yao nationality, Tujia nationality, Miao nationality, Zhuang nationality and Tibetan nationality, which provide quality research curriculum experience for teachers and students and enrich the summer study travel market.
Attached: List of 20 geoparks Summer Vacation preferential policies (with links, please copy to webpage for viewing)
The summary of 20 geoparks summer study tour discount link
1. Danxia UGGp will have a preferential ticket policy from July
https://mp.weixin.qq.com/s/CWuhauQjqQsME6x7AILjWw
2. Great Joy! Yandangshan UGGp free of admission ~
https://mp.weixin.qq.com/s/sVtGMEmw9UAxegyf5s-8Bw
3. "Love Tianzhu Mountain, Great Potential" -- 2022 Tianzhu Mountain Summer Activity is here
http://www.tzs.com.cn/site-ah-tzs/info/3289
4. Graduation season, take the cableway, Guanzhai Mountain invites you to reach amazing mountains and waters!
https://mp.weixin.qq.com/s/mwa1_AXxciywo0nC6jNT2A
5. This summer, take the high-speed train and visit Shennongjia for free!
https://mp.weixin.qq.com/s/lBtX2-MkCQPjzym8KbbQIA
6. Where do you go during graduation season? Xiangxi scenic area are very suitable!
https://mp.weixin.qq.com/s/qQAWLMRmI5KBzk5hNt6hIg
7. A cool "summer", Sanqing Mountain Summer benefits released here.
https://mp.weixin.qq.com/s/BL7hLV6oK8sKLORZAsxPog
8. Cross-province travels resume! Come to Huanggang and have fun together! (Attached with preferential policies for scenic areas)
https://mp.weixin.qq.com/s/wk26R4jQ3wKJH5wSXTUYsw
9. Students, look over here! Seven core scenic areas of Funiushan Global Geoparks are on sale in summer!
https://mp.weixin.qq.com/s/uECmBJ2dPVk2nGitZsXOeA
10. Official announcement! 2022 Zhangjiajie summer vacation travel preferential policy is coming
https://mp.weixin.qq.com/s/cLC8LUyVe9iMXPIHLd2hBg
11. The ticket price has been reduced by more than 100 yuan! This summer, come to Leye!
https://mp.weixin.qq.com/s/QvxTJFVcJBvo_51AnN7VgA
12. Summer study tour discount in Wudalianchi UGGp is coming!
http://www.wdlcggp.org.cn/newsupdates.0034/info.aspx?itemid=2897
13. Limit! Examinee party welfare! There are free opportunities! Yimengshan geopark preferential policy!
https://mp.weixin.qq.com/s/w7J0K0rL0kEjiyj4HafTYQ
14. Students from all over the country can visit Lushan free of admission, and the regulations of 2022 Lushan geopark ticket preferential policies are as follows:
https://mp.weixin.qq.com/s/24DEN-jtJtXz4jVEG5nEPw
15. Great news! Ten measures of Huangshan tourism market revitalization are released! Various preferential policies are as follow:
https://mp.weixin.qq.com/s/oUKc5uJdKlQcsUc7889RUQ
16. The latest preferential policies of Dunhuang Yadan Geoparks are coming!
https://mp.weixin.qq.com/s/dbpQ1AVWzG7q0mpE-caJXg
17. Taining Global Geopark
https://mp.weixin.qq.com/s/Ku1-oOPdea2e6gVMJQjIeg
18. Yuntaishan UGGp is free of admission for all tourists! A large number of study tour groups visit to the scenic area!
https://mp.weixin.qq.com/s/SNldClH4CWF3Y_pgbRwLaA
19. Cambra Geopark, Huangnan Prefecture, Qinghai Province
https://mp.weixin.qq.com/s/CcnKE7LZNOXqV1QMvIETUw
20. The price of ticket and electric ticket of Shilin Scenic Area, free ticket policy for residents of Kunming City and 9 surrounding cities for visiting.
https://mp.weixin.qq.com/s/Z0pPeXcZH0wkAnArmuR2vA