The Forth Stop of Science Popularization into School Activity: Nanyang No. 15 Primary School
Release time:2021-04-22 Reading times:
April 22nd marks the 52nd World Earth Day, with the theme of "Restore the Earth and Promote Harmony of Human and Nature". At 3 p.m., the activity of Science Popularization into School in "4·22 World Earth Day Publicity Week" was successfully concluded at the fourth stop, Nanyang No. 15 Primary School.
The earth is the common home of mankind. To treat the earth well is to protect ourselves and benefit future generations. Jian Dandan, master of ecology of Central China Normal University, gave a lecture on the origin of earth day, the main problems of resource and environment facing the earth at present and the characteristics of Funiushan UGGp.
Vivid explanation and interesting interaction helped students intuitively see the geological relics, geomorphic landscape and natural endowment of Funiushan UGGp. In the interactive Q&A session, students were eager to try, actively raising their hands to answer the lecturer's questions rush to the fore. Miss. Jian made use of pictures and texts to illustrate the dinosaur history of development and the formation process of dinosaur egg fossils. She also guided the students to introduce their own hometown in combination with Funiushan UGGp. Therefore, students could have a better understanding of their hometown Funiushan in the field of geology, culture and so on, stimulating their sense of pride of "loving my hometown".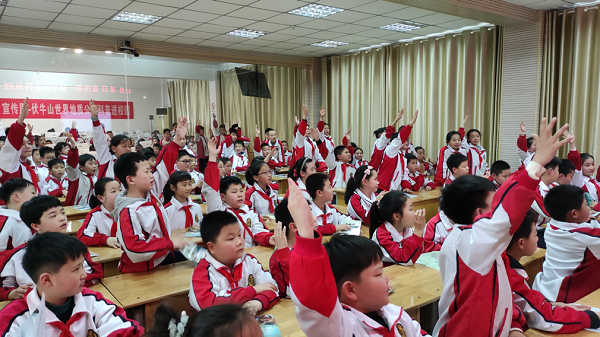 Nanyang No. 15 Primary School is one of the most famous schools directly under Nanyang city. With the priority of moral education and focus on teaching, the school adheres to leading scientific research and all-round development. The educational activity of science popularization actively developed students' potential and promote their comprehensive healthy growth. In the wake of publicity and education meeting, students expressed their strong will to jointly build a beautiful home in practice by behaving from trivial things around them, consciously protecting the environment of the earth and making economical and intensive use of resources.