The Third Stop of Science Popularization into School Activity: Nanyang No. 3 Middle School
Release time:2021-04-22 Reading times:
April 22nd marks the 52nd "World Earth Day", with the publicity theme of "Restoring our earth and promote harmony between humanity and nature. At 8:00 a.m., here comes the third site of the "4·22 World Earth Day Publicity Week" of Funiushan UNESCO Global Geopark. That is Nanyang No. 3 Middle School.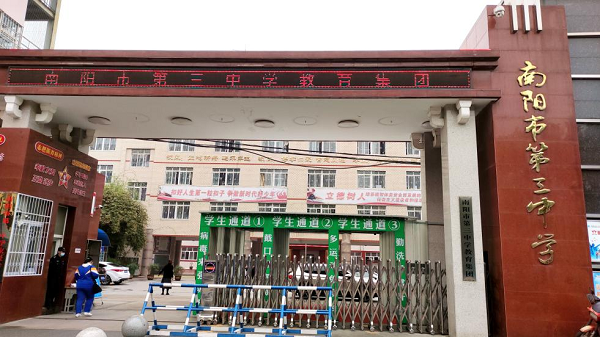 Banners were hung in Nanyang No. 3 Middle School to publicize World Earth Day with the slogan of "World Earth Day, More Fresh Air", creating a cultural atmosphere of science popularization, like, human and nature belong to the same community of life.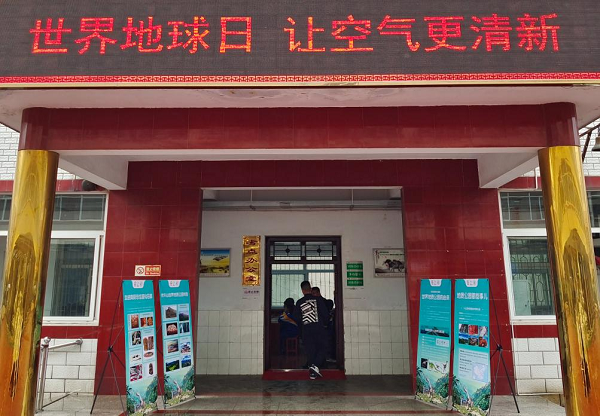 Jian Dandan, master of ecology of Central China Normal University, vividly and systematically introduced to over 100 teachers and students the basic situation, natural ecological resources and research achievements of Funiushan UGGp. Combining geoscience picture exhibition and science popularization film broadcast with simple contents, short texts, exquisite pictures and lively forms, he enabled students to arouse the awareness of loving and protecting the earth and their homes, and generate the interest of majority of students in geoscience culture.
During the interactive Q&A with the section content based on features of the geopark, the teacher, Jian Dandan, guided the students to tell the story of UGGp and further understand the historical background of their hometown and the great rivers and mountains of the motherland. At the end of the activity, the students had a short debate on the topic of "dinosaurs or dinosaur eggs first". Everyone was eager to express their views from the perspectives of amphibians, reptiles and the earliest emergence of amniotic eggs.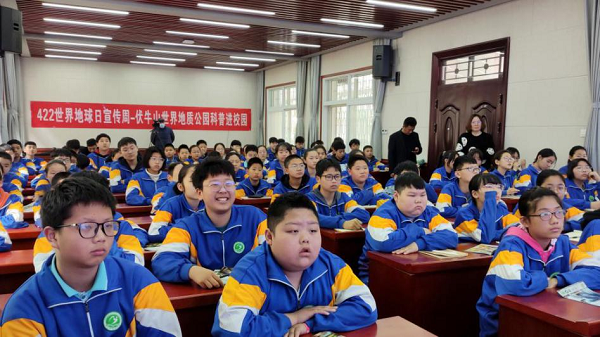 Nanyang No. 3 Middle School, the key junior middle school in Nanyang city, adheres to the school motto of "keeping high ambition and daring to be the first in the world" and aims to building morality and cultivating people. With safety as the guarantee, it focuses on the improvement of the quality of education and teaching, actively practicing comprehensive education. It has won many honorary titles, such as "National advanced unit of spiritual civilization construction", "National characteristic education school of reading and education activities", "Advanced collective of Henan Education System", "Henan model civilization school" and so on. With the theme of "World Earth Day", the school together with Nanyang Funiushan UGGp conducted publicity education of science popularization knowledge to guide students to adhere to the ecological civilization concept of respecting nature, conforming to nature and protecting nature, actively practice the green behavior of "saving resources and protecting the earth" and generate a healthy lifestyle.