Cherish the Earth and harmonious co-existence between nature and mankind Luanchuan Service Center holds publicity activities on World Earth Day in 2021
Release time:2021-04-23 Reading times:
On the morning of April 22nd, the service center of Luanchuan in Funiushan UGGp launched a series of publicity activities for the main body of World Earth Day to guide citizens to actively practice resource-saving and earth-protecting behavior in a green way and establish an ecological civilization concept of "respecting nature, conforming to nature and protecting nature". It advocates the public to cherish natural resources and cherish the beautiful earth.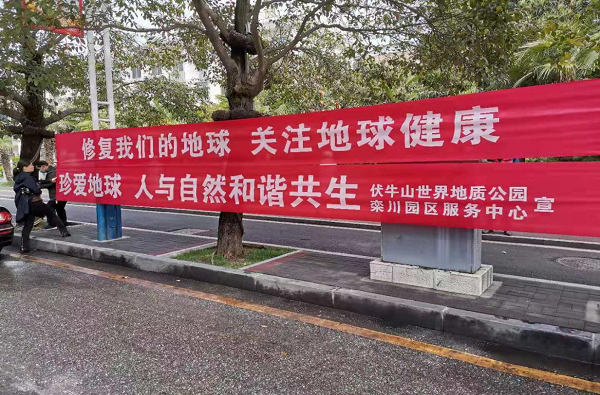 Presented in forms of publicity booths, on-site consultation, popular science readings, promotional films etc., the staff of Luanchuan Service Center of Funiushan UGGp patiently and enthusiastically explained to the residents about the origin of "World Earth Day", geological disaster prevention and control, geological relic protection, geological tourism and other relevant knowledge, and carefully answered the consultation of the mass. The event received more than 50 public consultations and distributed more than 100 brochures.
The publicity activities of World Earth Day have raised the people's awareness of the protection of the ecological environment and geological relics. People expressed their strong will to behave from trivial things around them, enhance the awareness of environmental protection, cherish and protect the earth.