Zhangjiajie UGGp visits Funiushan UGGp for study and research
Release time:2021-07-13 Reading times:
From July 20th to 23rd, Symposium on Chinese Dinosaur Eggs & 100 Precious Dinosaur Eggs Exhibition were held by Funiushan UGGp in its core scenic area of Xixia Dinosaur Relic Park. It is aimed at better promoting fossil protection and research, culture and tourism industry development, and local economy construction.
During the symposium, Zhangjiajie UGGp made a return visit to Funiushan UGGp, and conducted in-depth exchanges and discussion on the management system, protection measures of geological relics, construction of signage system, expansion of the advantages of the unique humanistic landscapes in the park, and the role of science popularization base.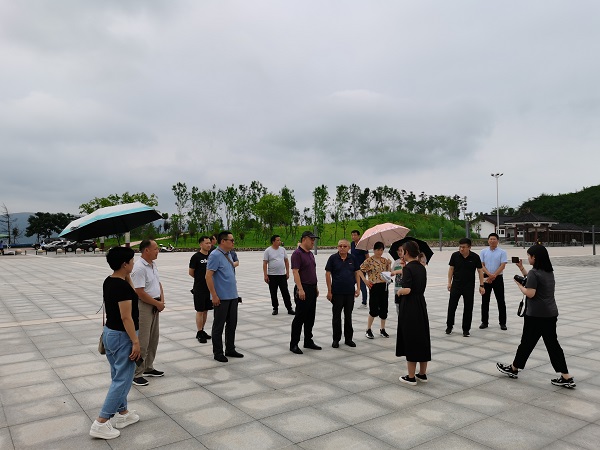 The delegation is inspecting Nanyang Dinosaur Egg Fossil Group National Nature Reserve of Xichuan.
The delegation, led by Yang Wensheng, deputy director of Zhangjiajie Forestry Administration, consisted of a group of 12 people from other units like the Global Geopark Management Office, the urban construction office of municipal government, the editorial office, the Wulingyuan District Government. They attended the opening ceremony of the China Dinosaur Egg Academic Forum and Soaring China Dragon - Hundreds of Dinosaur Egg Treasures Exhibition on July 21st and listened to lectures delivered by more than 20 domestic famous paleontological fossil experts, including Zhai Mingguo, academician of the Chinese Academy of Sciences, researcher and PhD supervisor of the Geology and Geophysics Institute, which is about the protection and utilization of dinosaur egg fossils, and how nature reserves and geoparks can help local economic develop. From 22nd to 23rd, they visited Dinosaur Egg Fossil Museum in the core scenic area Dinosaur Relic Park, Nanyang Dinosaur Egg Fossil Group National Nature Reserve of Xichuan County, Neixiang Funiushan UGGp Square, Neixiang County Yamen Museum.
They learned in detail about the protection of the dinosaur egg relics of Funiushan UGGp, design and display of geological square, the enhancement of the humanistic landscape to the global Geopark, the planning of the inspection route, and the interpretation of the landscape signs in the park. The two sides had an in-depth discussion on issues related to the mid-term evaluation. The study tour also provided a new sight for the managers of Funiushan UGGp on how to better manage the park and make it develop better. It is hoped that there will be more mutual visits and exchanges between global geoparks in the future to establish information interchange in the fields of management, construction, scientific research and science popularization, and jointly promote the sustainable development of global geoparks. (Wang Yazhe and Wang Jinzhou)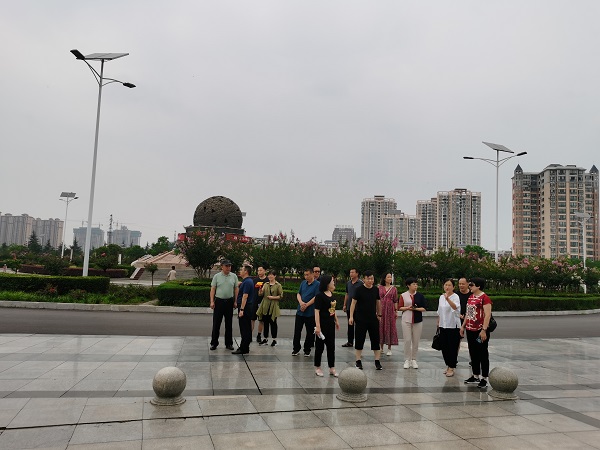 The delegation is in the square of Funiushan Global Geopark in Neixiang.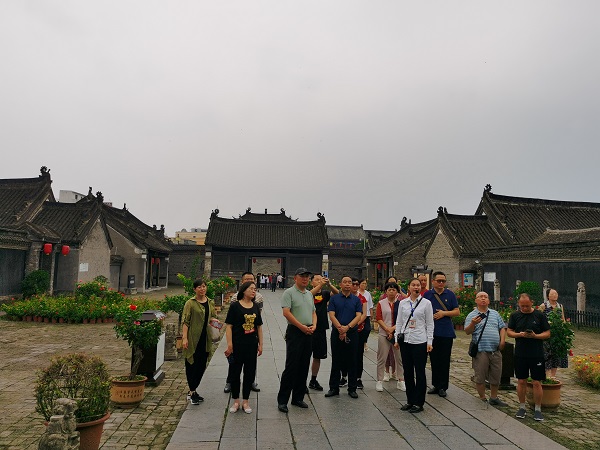 The delegation is in Neixiang County Yamen Museum.