Funiushan UGGp participated in the DIGITAL 9th International Conference on UNESCO Global Geoparks
Release time:2021-12-17 Reading times:
From December 12th to December 16th, 2021, the Digital 9th International Conference on UNESCO Global Geoparks was organized in Jeju Island UGGp (Public of Korea) with the theme "Fun Geopark", attracting more than 400 participants of 169 global geoparks from 44 countries and regions all around the world, including Funiushan UGGp.
The International Conference on UNESCO Global Geoparks is the most important event of the UNESCO Global Geoparks Network (GGN), held every 2 years, attracting the participation of managers, researchers, scientists, UNESCO global geoparks and aspiring geoparks worldwide. The 9th International Conference on UNESCO Global Geoparks was scheduled in 2020 but due to Covid-19 pandemic, the conference was postponed to 2021 and organized digitally.
In the conference, a series of activities were organized, such as youth forum, academic exchange, workshop on education, virtual exhibition and trip, and online film festival.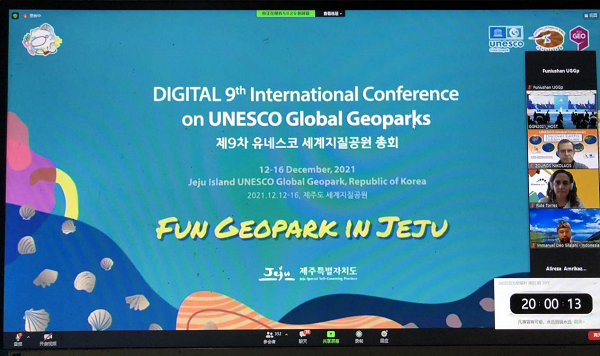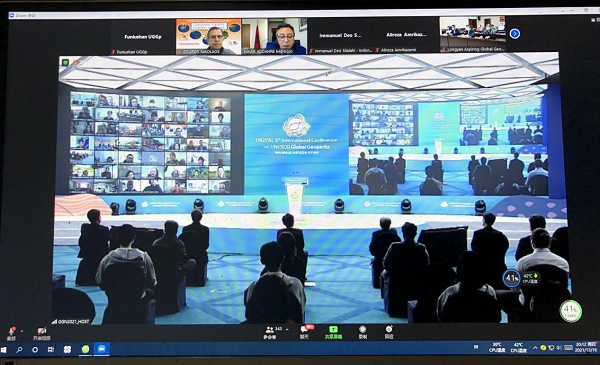 The opening ceremony started with opening remarks by the deputy governor of Jeju Special Self-Governing Province, followed by speeches by Shamila Nair-Bedouelle, UNESCO Assistant Director-General of Natural Sciences, Nikolas Zouros, GGN chairman, and Han Jeongae, minister of Environment of Korea. Introduction of the virtual trips in Jeju Island UNESCO Global Geopark was also involved. For the final agenda of the opening ceremony, reports were given by Kristof Vandenberghe, head of the Geology and Disaster Reduction Division of UNESCO and secretary of the International Geoscience and Geoparks Programme (IGGP), Prof. Nickolas Zouros, and Dr. Jeon Yongmun, geologist of the Jeju Island Global Geopark Management Team.
The promotional film Keep Watch submitted by Funiushan UGGp participated in the first GGN Online Film Festival hosted by GGN, and in the online virtual exhibition, the typical landforms and graceful natural scenery of Funiushan UGGp were showcased.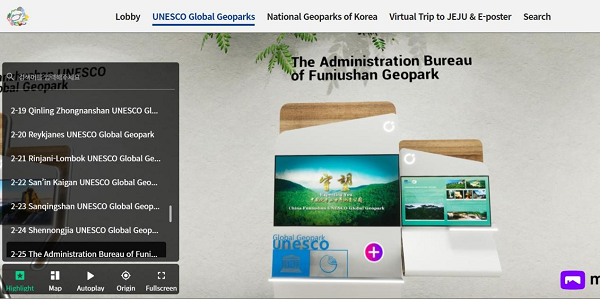 Playing Film Keep Watch
In GGN (Global Geoparks Network) General Assembly, Funiushan UGGp participated in the GGN Executive Board elections and voting and the 2020-2023 Action Plan voting. (Wang Yazhe)