Funiushan UGGp participated in Workshop on Conservation and Development of Zhangjiajie UGGp in 2021
Release time:2021-12-23 Reading times:
From December 20th to 22nd, Nanyang Funiushan UNESCO Global Geopark(UGGp) Administration was invited by Zhangjiajie UNESCO Global Geopark(UGGp) Administration to participate in the "Workshop on Conservation and Development of Zhangjiajie UGGp in 2021" held at the Global Geopark Museum in Wulingyuan District, Zhangjiajie.
Huang Heqing, professor from the Institute of Geographical Sciences and Resources of Chinese Academy of Sciences, Zou Bin, professor from School of Geosciences and Info-physics of Central South University, Yu Xunlin, professor from College of Forestry of Central South University of Forestry and Technology and other 8 experts, Liu Baodang, deputy secretary general of China Association of National Parks and Scenic Sites of National Forestry and Grassland Administration, Wu Xiangyu, director of Nature Reserve Center of the Forestry Department of Hunan Province, Peng Fabin, secretary general of Zhangjiajie Municipal Government Office, as well as more than 40 guests and representatives from other seven geoparks, including Lushan UGGp, Longhushan UGGp, Wangwushan-Daimeishan UGGp, attended the event.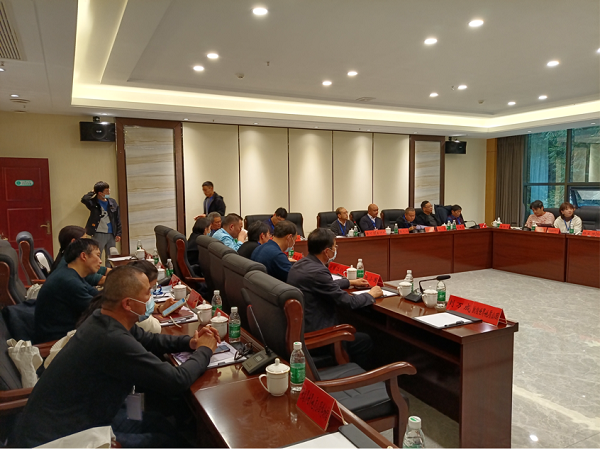 The meeting was chaired by professor Huang Heqing. Peng Fabin, the secretary general of Zhangjiajie Municipal Government Office, Yang Wensheng, Deputy Director of Zhangjiajie Forestry Department and leaders of Zhangjiajie Wulingyuan Scenic Spot and National Forest Park Administration delivered speeches in turn. Prof. Huang Heqing presented the history of construction and development of Zhangjiajie UGGp and discussed how Zhangjiajie UGGp could demonstrate and lead the protection and development of geoparks, which was proposed in the last world UNESCO revalidation. The representatives of Wangwushan - Daimeishan UGGp, Lushan UGGp and Xiangxi Daimeishan UGGp, Lushan UGGp and Xiangxi UGGp made theme reports on how to revitalize tourism, carry out geological science popularization activities, deepen strategic cooperation with scientific and research institutions and universities, and make overall plans with high quality in the post-epidemic era.
The representatives of Funiushan UGGp said that, in response to the epidemic, the geoparks should take various measures of well integrating science popularization, tourism and research and study. During the off season, it's a good time to improve development of geoparks by carrying out science popularization, and strengthen the protection of native vegetation in the geoparks to prevent exotic transplanted plants or parasitic vines from growing in a disorderly manner and destroying the geological ecology.
To prepare for the mid-term revalidation in 2022, Funiushan UGGp will strengthen communication and cooperation with other geoparks, actively carry out science popularization, scientific research and study activities, and promote the integrated and sustainable development of culture and nature, ensuring the success of the revalidation. (Zhao Zhenjiang)